Reading Time:
3
minutes
Hit by COVID-19, separated by social distancing and under national lockdown triggered an economic downturn. The operational resilience of every industry is tested like never before – urging Industry leaders to respond to a drastic shift in demand.
Only 12% of organizations are highly prepared for coronavirus. – Gartner
Organizations are often ill-prepared to react to such sudden emerging risks. As priorities shift, business leaders will have to reshape their strategy several times to address the business implications facing each industry.
Unforeseen challenges such as business continuity risks, workforce productivity loss, security risks – all this need immediate attention encouraging leaders to adopt robotic process automation at an alarming pace.
RPA can bring digital transformation in the areas of operational efficiency and consumer engagement by automating a bulk of business processes.
Role of RPA in the COVID-19 battle
RPA is a beacon of hope to keep business and service levels afloat. With work from home becoming the de facto norm, employees face difficulty in conducting several virtual meetings, calls, and record minutes of the meeting. To ease this transition, smart MOM BOTs that can take any audio/video recorded file and convert speech to text in a structured format in an output document file can be implemented.
From managing high volumes of testing results and processing a large volume of claims to supporting the increased need for customer service and empowering remote workforce, RPA allows businesses to sustain the operations.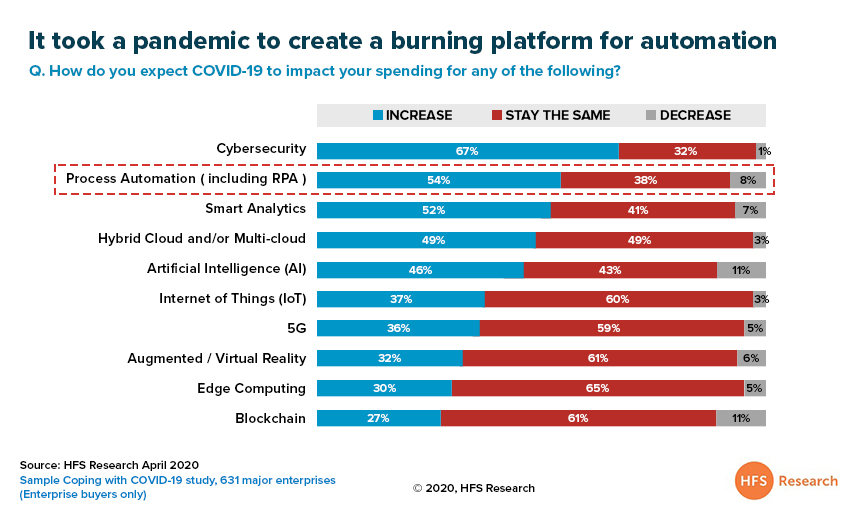 Robotic Process Automation (RPA) has a proven record of being a vital tool to navigate the current global crisis. With bots being deployed in business processes, it is easier for organizations to tackle rising challenges caused by COVID-19.
Before & After RPA: Exploring the possibilities
Take, for instance, a typical banking process that relied on walk-ins for account opening, and manual process of filling forms are now forced to work with restricted workforce or completely shut down branches resulting in a sharp decline in providing customer service.
Hence, there is no better option for businesses to leverage RPA as a preventive measure for business continuity.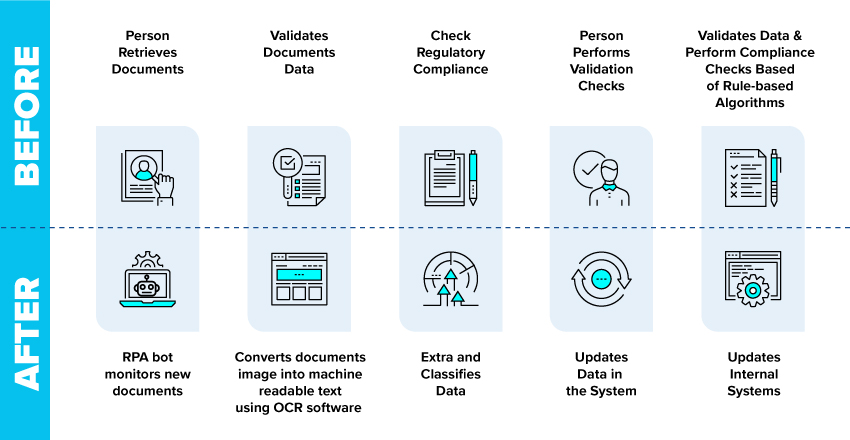 With automation in place, data capturing, verification, and approval of the KYC process hardly take a few minutes. The entire mechanism operates in a streamlined manner.
Banks are also deploying customer-facing bots – including Chatbots or Voice bots to ensure that there are no customer complaints left unaddressed whether they are related to unmatched balances, incorrect charges, or other similar issues. Automating the account opening process can improve processing speed, reduce operating costs, and reliance on FTEs/agents.
RPA is at the forefront to flatten the COVID-19 curve by stepping up and providing innovative solutions. Right from Healthcare to the adversely impacted industries such as Travel & Hospitality, Pharmaceuticals, HR, Supply chain and Financial Services and Insurance (BFSI) – automation is finding its way across industries.
Some of the use cases of RPA include:
Healthcare
Accelerate COVID-19 Testing & Reduce Wait Times
Accelerate Patient Diagnosis for COVID-19
Schedule Remote Patient Consultations 24/7
Health Screening Bots for Monitoring Employee Health
Contact Center Support to Manage Queries
Travel & Hospitality
Self-Management of Flight Disruptions
Chatbots for Updating and Communicating with Travelers
Detecting Travelers Suspected of COVID-19
Crew Scheduling for Restricted Travel
Human Resource
Automate employee onboarding process
Automate emails with a structured report to the stakeholders.
Employee Data Management.
Supply Chain
Automate Shipment Scheduling and Tracking
Speed Invoicing by Integrating Systems with Customer Portals
Automate Order/Inventory Tracking
Improve Forecasting and Logistics Planning
RPA foster a feeling of camaraderie to remote employees in tough times and keeps businesses operationally agile.
One of the most powerful benefits of RPA is reliability: The bot can tirelessly work 24 hours for 365 days with nearly 100% accuracy and without interruption." It is non-invasive in nature and promises to reduce turnaround times, lower operating costs, improved compliance, and higher customer satisfaction.
How Cygnet Infotech's RPA capabilities ensures business continuity
The coronavirus pandemic is likely to strain every business for the foreseeable future. You need a catalyst that accelerates your RPA adoption with a holistic approach to survive in the global economic meltdown.
At Cygnet Infotech, we advocate a new way to deploy RPA—what we call our 'Technology First' approach to augments the digital operations of organizations of tomorrow, radically reducing handling time while providing superior user and customer experience.
Cygnet Infotech has been leading from the front against the fight with COVID-19 by intelligent RPA solutions. Our expert tech architects provided a robust RPA solution to one of the leading pharma companies that had been facing a major challenge in identifying and manually managing the entire customer data. The solution ultimately fast-tracked the client's productivity by 40% and achieved 99% accuracy using the Bot to mimic human actions while performing the task.
So, why wait for the storm to come and disrupt, adopt RPA technology to drive business continuity, maintain process efficiencies, and amplify customer experience.