Reading Time:
3
minutes
Let's be real, speed, precision and transparency are cornerstones for thriving businesses. In order to excel on these benchmarks, it is imperative for businesses to adopt evolving technology solutions – this is where RPA steps in as a technology disruption positively impacting people, processes and technology. 
Having said this, lack of understanding around this tech and apprehensions regarding its implementations are restricting businesses to Think RPA to encourage digital transformation within the organization.
RPA can tackle some of the most common business bottlenecks such as:
Automate labor-intensive repetitive tasks
Extract massive data
Extend existing business process capabilities
Deliver superior customer experience
Help to derive intelligence out of heaps of data
Enable high quality and non-erroneous data
Radically reduce lengthy processes
Maintain high cost of implementation
RPA reduces swivel chair processes and augments human capabilities to focus more on value-added tasks. Organizations are already adopting RPA to disrupt legacy ways of working and discover newer possibilities.
The active spend on RPA tools was $1 billion in 2019, but has ratchet up to $1.5 billion by 2020, according to Forrester Research, which says that 40 percent of enterprises will operate automation centers and frameworks this year. – Forrester
A quick peek on the key RPA trends to caution businesses on why RPA adoption is necessary.
Acceleration of businesses processes and growth with RPA70 percent of business leaders have plans of investing more in the development and implementation of RPA. – Softomotive RPA Landscape Annual Review
Prominence Of Chatbots80 percent of brands expect to serve customers through chatbots by 2020 – CMS Connected
Increasing Use Of Unstructured Data leads to RPA80 percent of worldwide data will be unstructured by 2025 – Solutions Review
Increased Automation Centers40 percent of organizations will set up automation centers and also heavily invest in centralized coordination centers or centers of excellence – ZDNet
Lead RPA evangelist and AVP of Technology and Solutions at Cygnet Infotech, Vivek Mishra has a unique perception on RPA and has noted some vital reality checks to build a broader automation strategy. He firmly believes "RPA is a journey of optimizing repetitive tasks with the help of self-functioning automated bots".
In his words- The Robotic Process Automation is increasing from just being a follower to now an optimizer of business processes. We are already living in a cyborg world where our dependency on technology is only going to increase. Hence, in the race of 'survival of the fittest' he strongly promotes RPA with an amalgamation of AI and Analytics. This will increase ROI and reduce operational cost on mundane and repetitive tasks.
Achieve Automation Excellence with Cygnet Infotech's RPA Capabilities
Cygnet Infotech's approach to digital transformation can help businesses to seamlessly optimize their processes and maximize their return on investment. We have successfully delivered intelligent RPA solutions aiding businesses to establish superior quality benchmarks.
As a recent success in the RPA space, Cygnet Infotech worked with a Pharma giant to automate its key business function.
Daily, huge amounts of data consumed significant time in data processing, as an aftermath, leading to erroneous outcome, inaccurate data and exposed mission critical operational inefficiency. Gauging these challenges, automation experts at Cygnet Infotech developed a Bot solution capable of automating data processing and delivering accurate data. Cygnet Infotech's RPA solution improved the data management accuracy by 99%, reduced the data processing time with improved ROI of almost 70%.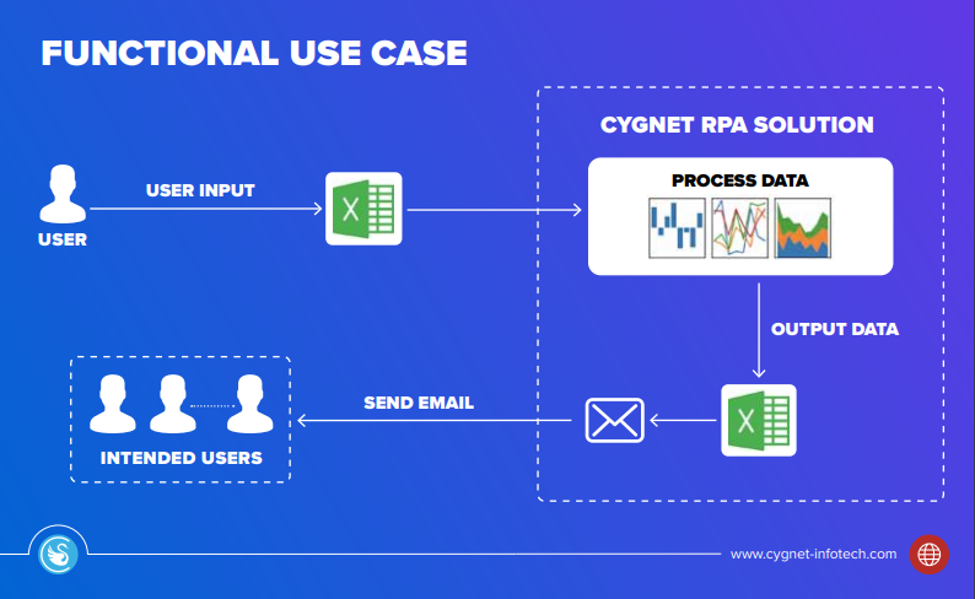 RPA Adoption : Survival of the Fittest
The expansion of automation is happening at an unprecedented speed and most of businesses are exploring new ways to deal with this change. On the other hand, enterprises using RPA have reported multiple business benefits such as accelerated process time, improved efficiency and productivity and enhanced user experience.
As a Technology First company, Cygnet Infotech takes 100% agile approach to develop scalable RPA solutions that help businesses to harness the power of bots and cognitive automation within the enterprise.
Our experienced automation engineers are adept and innovative backed by their AI and analytics acumen that can help accelerate your digital transformation journey and help you to outsmart your competition.