Reading Time:
4
minutes
In this world of digitalization, new technologies keep up and coming in the market. A variety of emerging technologies have already received quite a lot of buzz. In order to keep up with the rapid pace of their competitors, businesses are trying to adopt and accept the ongoing trends in the market.
The emergence of sophisticated Artificial Intelligence has garnered much attention both online and offline. It has made machines learn and interpret humans while leaving a small room for errors.
Artificial intelligence and Machine Learning power the automation of repetitive and mundane processes. Robotic Process Automation (RPA) is one of the several ways AI and ML can make businesses achieve their goals. Here we attempt to dissect just how RPA can boost business growth.
Robotic Process Automation features new technology methods which structure and automate business processes. It is cost-effective, quick and reliable. RPA automates the routine, repetitive, time consuming and rule-based tasks using Artificial Intelligence and Machine Learning without human intervention.
Unlike common misconceptions, RPA doesn't use actual robots that replace human beings, instead RPA is the process of using software for automation of business operations.
It is used in sectors like healthcare, accounting, human resources, supply chain management and much more.
CGI Report suggests that nearly 20%–50% process cost reduction can take place with 15% greater transaction throughput capacity and 20% improved quality, reduced error rates and process variation.
The RPA tool is an excellent benefit for testers. It begins its work by first undergoing codeless automation macros on desktop. In fact, it serves as a time saver.
When it comes to the testing pyramid, GUI testing is relatively more expensive compared to unit and integration testing and hence performed less. Using RPA tools for testing, GUI testing can be easily performed in shorter duration as these tools can capture repeated processes.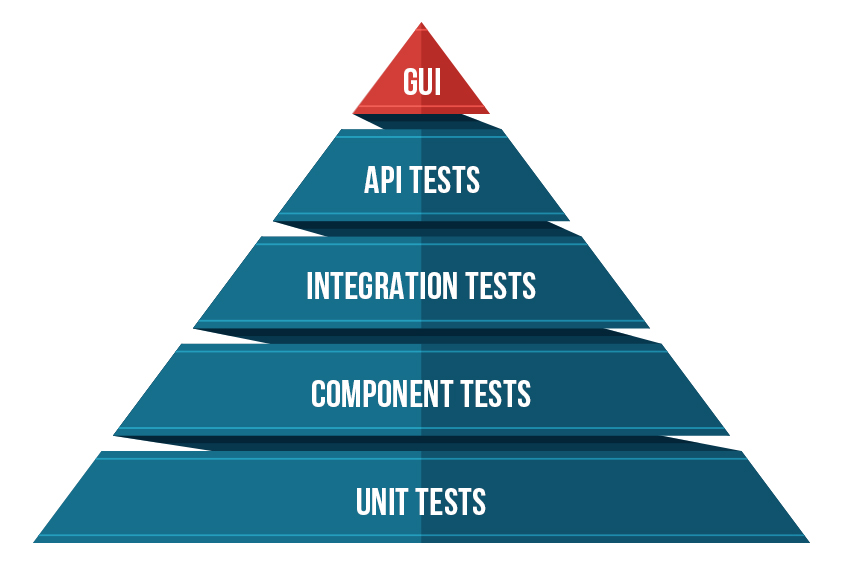 RPA is becoming a trend in the business fraternity, and why not, considering the several advantages it offers.
Robotic Process Automation for Business
Business users have to routinely interact with multiple systems on a regular basis. That's where RPA steps in by automating these processes while saving time and minimizing additional spend on the resources needed for maintenance.
For instance, when a company hires an employee, his details get stored in a directory. The HR department then takes care of all the processes and registers him in the company's database. Depending on the industry and nature of the business, this can easily take at least one working day, if not more.
Using RPA, the same can be performed much faster with higher accuracy usually in minutes. That's why companies are automating processes swiftly as the first step of Digital Transformation.
RPA serves some key functions that make the testing process faster and more accurate.
Here are some keys points that RPA implements:
Understanding the Automated ProcessWhen automating the process, it tends to undergo many changes. The first step for the testing team is to understand the automated process as the strategic approach is built methodically based on this initial step.
Verifying the AutomationThe automation can be verified by cross checking it with the existing business rules. The test scenarios should be concise and clear.
Test casesThe test cases have these columns – input data, actual results, exceptions and valid or invalid. This helps cover a variety of scenarios.
Testing the dataThe most important part of testing is the data. If the data is inaccurate, the results generated will generate errors.
Managing ErrorsThe defects acknowledged during the testing should be listed and notified to the development team.
After understanding, five ways RPA works for testing, let's see why it's a win-win for businesses to utilize it.
Features of RPA Testing
It is codeless so there is no need of memorizing the syntax.
Creating a process is convenient with drag and drop options.
It is scalable and accurate.
It is cost saving as minimal workforce is used.
It is accurate as the tasks are performed by automated processes.
RPA often gets confused with Test Automation. But, is RPA testing actually the same as Test Automation?
There are quite a few differences between RPA testing and Test Automation. Here is a short list of the differences between the two.
| Test Automation | RPA Testing |
| --- | --- |
| The goal of automation is reduction in the test execution time. | The goal of RPA is reduction in the headcount. |
| It automates repetitive test cases. | It automates repetitive business processes. |
| It requires coding knowledge. | It is codeless and wizard driven. |
| Acts as virtual assistance. | Acts as virtual workforce. |
| It automates only the product. | It automates both product and services. |
Test automation has made the process of testing easier and accurate but the introduction of RPA in testing has improved the work efficiency of repetitive tasks.
RPA has several advantages for businesses including:
Saving Time
It is cost – time efficient and increase throughput.
Higher Productivity
It allows employees to invest their time in productive work as the retentive and mundane tasks are performed by robots.
Increased ROI
It expands virtual force quickly by minimizing manual work, providing error free output with higher return on investment.
Accurate Results
It eliminates human errors improving customer satisfaction.
RPA has taken the test automation process to the next level. With RPA the process of testing has become codeless, accurate, easy and flexible.
If you are considering implementing RPA testing in your Organization, you have come to the right place. The Cygnet Advantage guarantees you get 100% agile, adaptable and flexible technology solutions for your organization.